Our employees are by far our greatest asset and make SCS Elevator Products an amazing place to work and the main reason we are able to product quality elevator jamb and cab braille, signs and elevator buttons
We are excited to introduce and give you the opportunity to learn more about some of our people who's daily hard work and dedication make it all happen!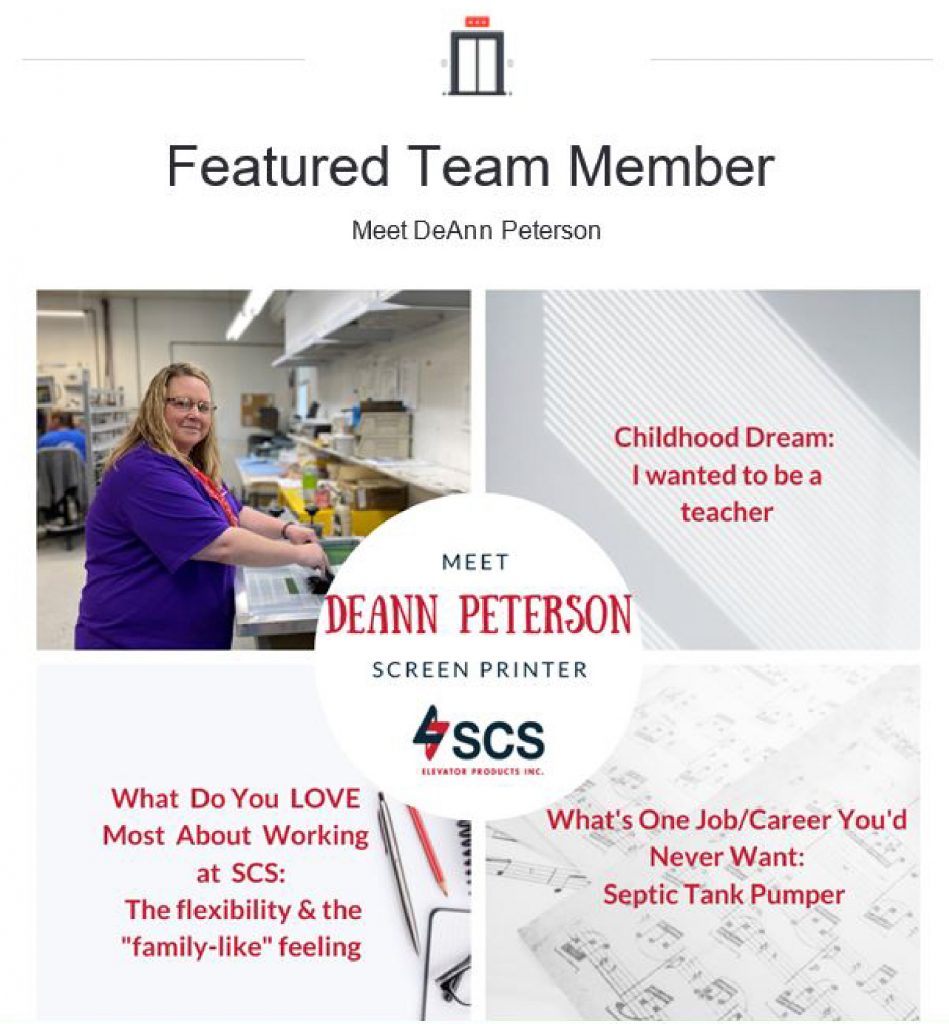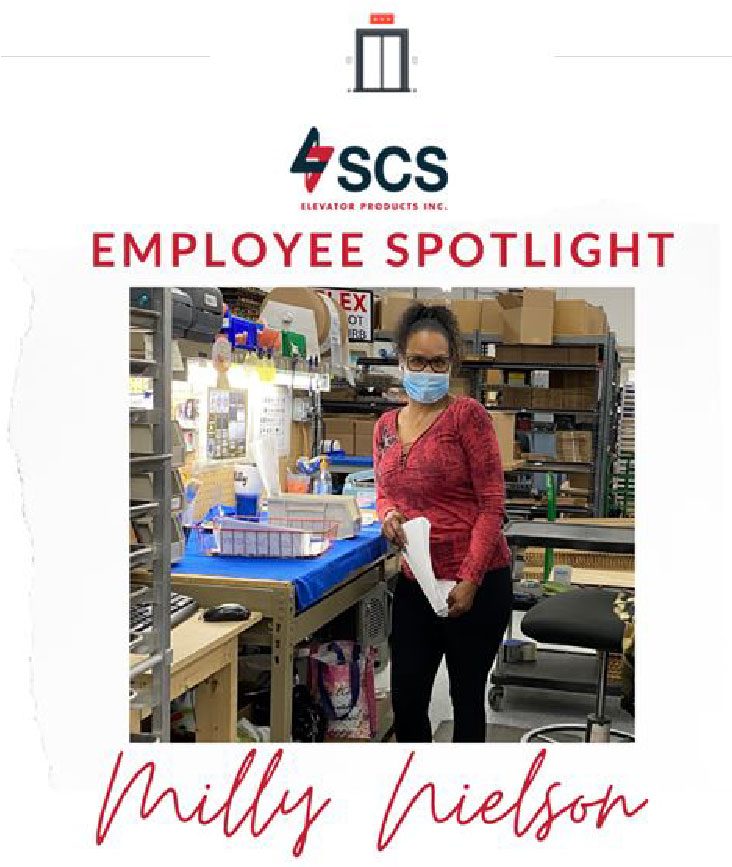 Milly works in our finishing department and has been at SCS since 2015. Finishers are responsible for the final visual inspection of parts to ensure correct styles, finishes, quantities and overall quality before they are shipped. Some other duties include stud removal on elevator jamb or cab braille, application of adhesive, bagging of braille parts as well as signage and buttons and application of customer specific labels
What do you enjoy doing on your time off?
"I enjoy cuddling up on the couch and watching a good movie!"
What did you want to be when you grew up?
" I wanted to be a ballerina."
If you had a superpower, what would it be?
"To fly."
What do you like best about working at SCS?
"My coworkers and the fact that they are so flexible."
What is one thing that makes your day great?
"Waking up to see another day!"
---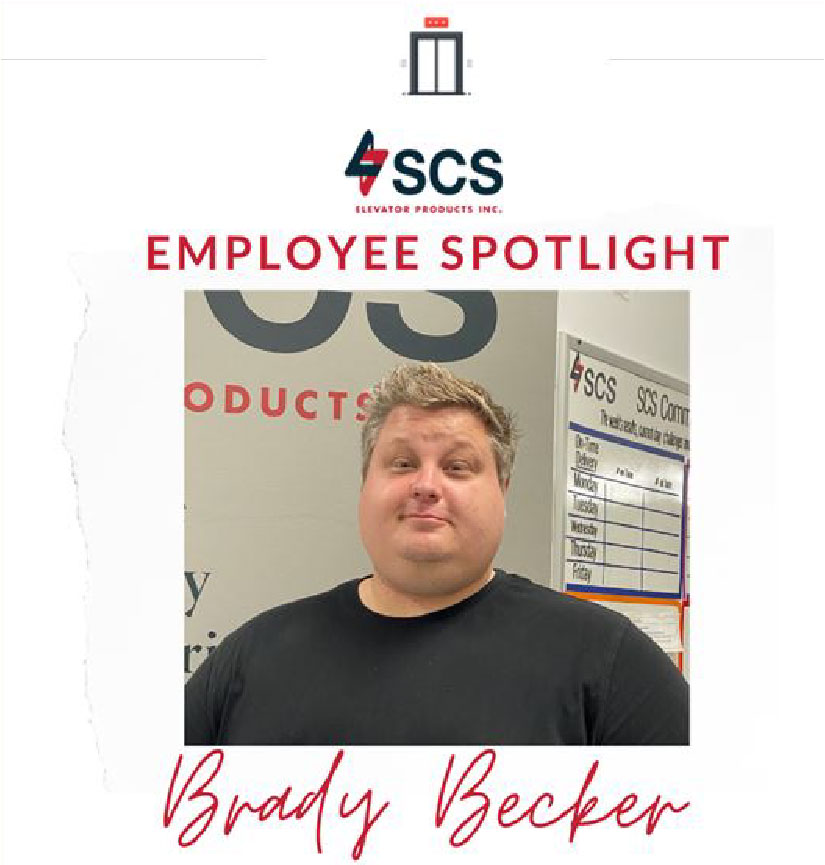 Brady has been a part of the SCS team since 2008 and is currently the second shift supervisor. Along with making sure second shift runs smoothly, Brady also focuses on the production of our destination dispatch product line.
Did you make a New Years Resolution? If so what was it?
"Try not to take the little things or moments for granted. Do more things that bring happiness like spending time with friends and family. Tell people I love them more, listen when people need to talk, and make more memories."
What do you enjoy doing in your free time?
"Fishing, boating, sitting around campfires with friends and family, traveling, and talking to new people."
What did you want to be when you grew up?
"A comedian because I wanted to make people laugh and bring people a little happiness in the crazy world we are living in.'
What do you like best about your career at SCS?
"Being able to grow in the company. Going from custodial engineer to a supervisor, learning multiple departments within the company, and begin able to teach new employees."
---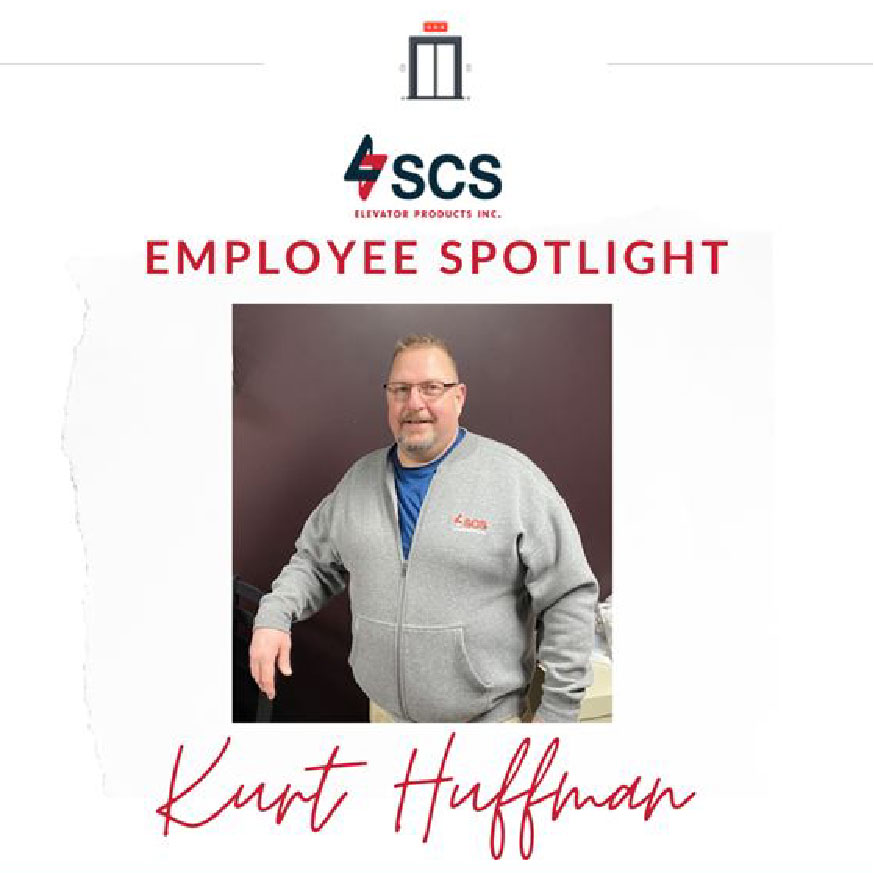 Kurt has been with SCS longer than any other employee, starting his career here in 1996! He and his wife Sue, who also works at SCS, actually moved to Red Wing when the company relocated here years ago. During his time here Kurt has done it all and is currently a production supervisor. Kurt's focus is the die cast department and ensures proper scheduling and production of the die cast jamb and cab braille parts. With and average of over 14,000 pieces a week going through this department, this is no small task.
What do you enjoy doing in your time off?
"Bowling, trying new things on my smoker/grill and relax on my deck when weather permits."
As a kid what id you want to be when you grew up?
"A cop"
If you had a super power what would it be?
"Invisibility"
What is a job that you would not want?
"Waste Management"
What do you like best about working at SCS?
"How all the employees get along like a big family."
What are three words/phrases that people would use to describe you?
"Very giving, always helpful, funny."