How It Works: Sublimation Printing
Wild Fig Support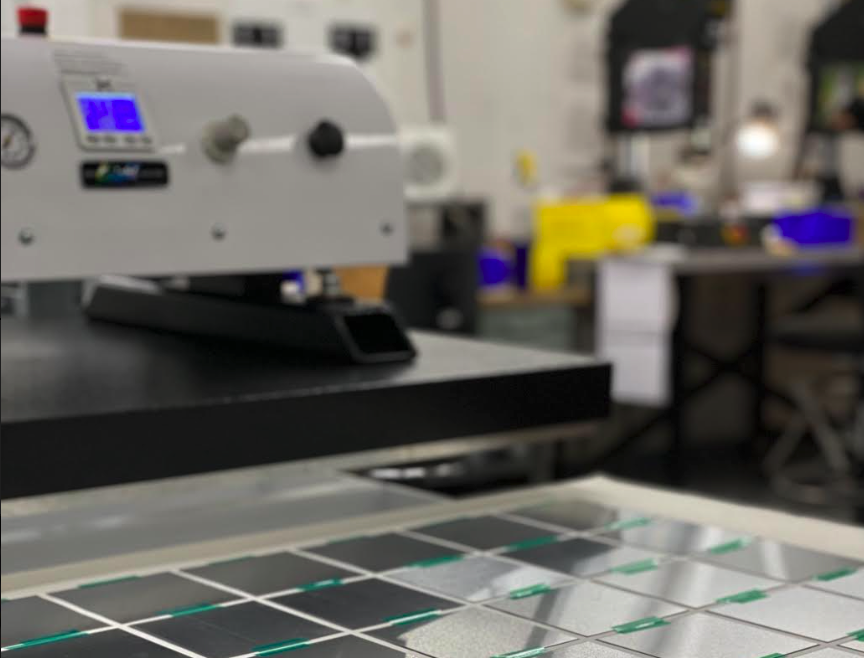 We've all owned a graphic T-shirt at one time or another. Some of us wore them to show off our favorite band; some of us to proclaim we were, "with stupid."
But did you ever put that T-shirt on and realize that the printed graphic made it feel… stiff? Like it had some kind of a sticker on it? Or perhaps, over the years, you noticed that the graphic began to peel, crack, and fade.
That's because your graphic tee wasn't sublimated.
More likely, it was screen printed or printed using heat-transfer paper. These techniques transfer ink onto fabric (or other materials) like an extra layer. When the ink dries, it can feel stiff and be prone to cracking, peeling, or fading.
But what about that T-shirt you bought where the graphic felt soft, as if it were part of the material? That, friends, is the magic of sublimation.
What is Sublimation?
Sublimation is a printing process that uses heat, pressure, and a special ink to transfer designs onto hard surfaces and fabrics. Unlike screen printing or laser printing, sublimation printing bonds the image with the material.
Need elevator signage for your lobby?
Looking to put your logo on a t-shirt?
How about a wooden keepsake to give to your folks?
Sublimation can make it happen. Versatility is just one of the things that sets this printing process apart.
Sublimation printing can transfer vibrant images onto a variety of materials (AKA, substrates), including metal, wood, slate, polyester fabric, and more. The only requirement is that the substrate must be made with polyester, or have a polyester coating.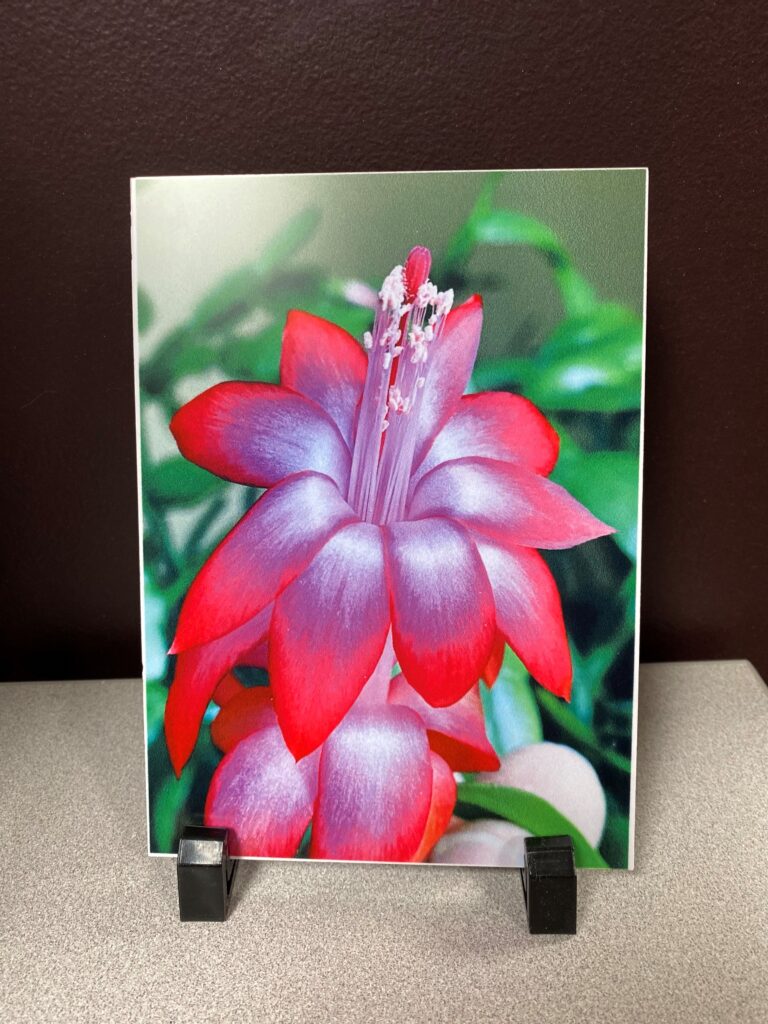 How It Works
The sublimation printing press uses a special ink (that's more like a dye).
So, to print using sublimation, you take your desired image that's been printed on special paper and set it directly on top of the substrate. The printer will then apply heat to both the substrate and the image for a brief amount of time, about 30-60 seconds.
When the printer applies heat, many things happen at once:
The special ink gets converted to a gas.
The gas interacts with the ink on the printed image.
The molecules that make up the substrate's surface destabilize.
The separation of molecules "opens up" the substrate's material to allow the now-colorful special ink to "set."
When it cools, the substrate's molecules will stabilize and "close up" again. This results in the substrate's surface being permanently bonded with the colors. This results in a vibrant, durable, and accurate print. 
A major benefit of using this printing method is that the image will be chip, peel, scratch, and water resistant. It is also less likely to fade than other printing solutions.
But… What Does This Have To Do With Elevators?
Great question! The answer is simple: elevator signs and data tags.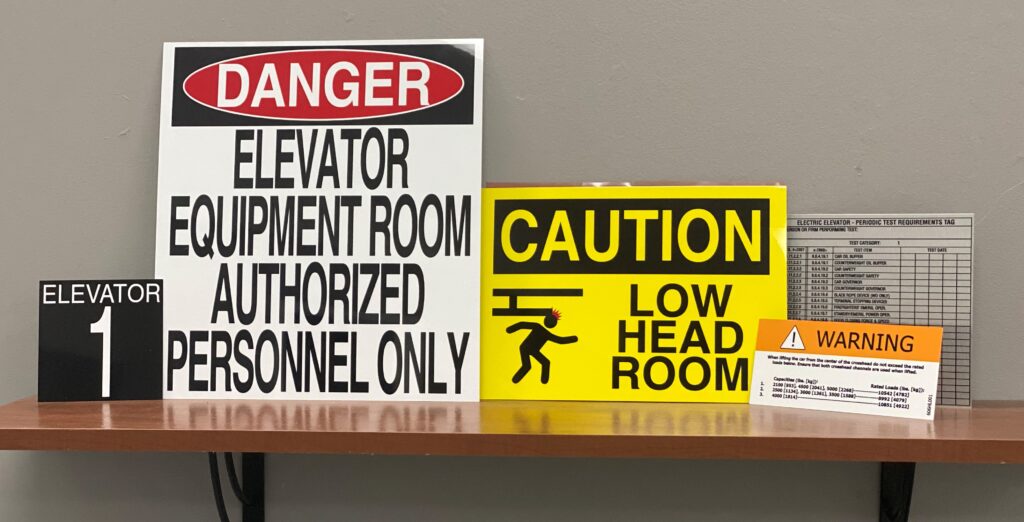 Elevator signs indicate direction or communicate safety procedures. Whether it's "Danger,"  "Notice," or "In case of fire," these signs are all just printed images on metal substrates. The sublimation process has made printing these signs easier and quicker than ever. 
Data tags show inspectors that the elevator is up to code by displaying all the necessary information. You'll likely find information such as weight capacity, maximum occupancy, permit dates, instructions for handling an emergency, and other important information on a data tag.
SCS Elevator Products utilizes state of the art sublimation printing technology on elevator signs, data tags, and other building signs. Since we've upgraded our press size, we've also been able to produce larger-sized signs, larger quantities, and with shorter lead times.
Short lead times are one of the best advantages of sublimation printing. On most of our standard sublimation offerings, SCS Elevator can produce small to medium size quantities of elevator signage within just one to two business days, and large quantities usually within a week.
Bonus Sublimation Services:
SCS Elevator Products can easily customize a variety of items thanks to sublimation printing. We can take your message, photo, logo, graphic, and turn it into signs of all applications and purposes. 
The best part? We have no minimum order quantities for standard or custom items.
Novelty items we've created so far include:
Golf towels
Metal plaques
Photograph keepsakes
Keychains
Ornaments
…And more!
We're set on expanding our sublimation expertise to be able to offer more of the novelty items featuring images and photographs. (For photography, we use an upgraded aluminum called ChromaLux, which produces images with the sharpest clarity and amazing depths of color.)
These "Novelty" items–especially metal representations of photographs of friends, family, pets, or fun sayings–have been particularly popular with customers.
Need Sublimation Printing Services? Call on SCS Elevator Products!
With sublimation printing, you pay less for your prints while also cutting down the time it takes to receive your order. 
Whether you're looking for products like elevator signage or data tags, or you're a customer in the market for novelty items, SCS Elevator has what you need. Contact SCS Elevator Products or call us at 800.783.4633 today! We look forward to being your partner in printing.