Resin Shortage—How we got there and what this means for elevator braille, elevator buttons, and elevator signs.
Michelle
Critical Resin Shortage
Isolated shortages in supply chains are not uncommon, and the plastics industry is no exception.  Every few years we see a hurricane that shuts down refineries on the gulf coast or tight supply when a manufacturer's plant is off-line for planned maintenance.  On one occasion a planned shutdown on a PC plant, followed by a catastrophic fire at a competitor, crippled the PC market in North America for several months. Past events have been bad but they have usually been limited to one or two material families.  Today's resin shortage are across the entire spectrum of materials. Plastics Today published an article where they report that in the 21 years the PlasticsExchange has been making markets and supplying resin, the resin clearinghouse reported they have not seen anything even come close to the supply/demand imbalance we are currently experiencing.  This situation will likely persist for many months ahead as none of the solutions to any of these problems will be resolved quickly.
What is causing this massive shortage? 
Government mandated COVID shutdowns started in March 2020. Fear of the unknown initially caused many chemical and polymer suppliers to reduce inventories. This unfortunately proved to be an ill-advised reaction as consumer demand surged.
Significant increase in demand
COVID preparation resulted in higher demand for medical products.  North American auto builder rebounded to 2019 levels again in the third quarter of 2020 and those numbers have continued into first quarter of 2021.  The shift to working from home and distance learning drove higher demand for consumer electronics.  With more leisure time the demand for home improvement products, appliances, and leisure related products surged. Home Depot experienced quarter over quarter increases of 25% beginning second quarter of 2020. Consumer product demand drove a surge in packaging.
Freight is up 30% since April of 2020.  Orders for trucks outpace trucks available by 5 to 1.  Docks on the west coast are full, so vessels are anchored and waiting to be unloaded, causing a shortage of shipping containers.
In February 2021 massive winter storms in the south knocked out power and shut down the entire petrochemical-producing region, including 80 to 85% of US PE (polyethylene) and PP (polypropylene) production according to an article in Plastics Today.  This compounded already reduced resin supplies from COVID related disruptions.  Many other critical supply-chain components were also disrupted and are struggling to get back online and at full capacity.
PPP unemployment extensions made hiring and retaining employees challenging. Localized outbreaks of COVID resulted in workers being off work and restricted production in manufacturing facilities. Less people are able to work together repairing damaged refineries as a result of government recommendations on safe distance protocols,
Affects on SCS Elevator Products
One of our core competencies is plastic injection molding, so this resin shortage is a significant concern for us. Everything from elevator buttons and their components, cab braille, jamb braille, elevator signage and plastic packaging could potentially by affected by this shortage.  Recently we received a letter from our main supplies of the Lexan brand of plastic calling a force majeure event.  A force majeure event refers to the occurrence of an event which is outside the reasonable control of a party and which prevents that party from performing its obligations under a contract. Many suppliers are calling for force majeure clause in all resin categories.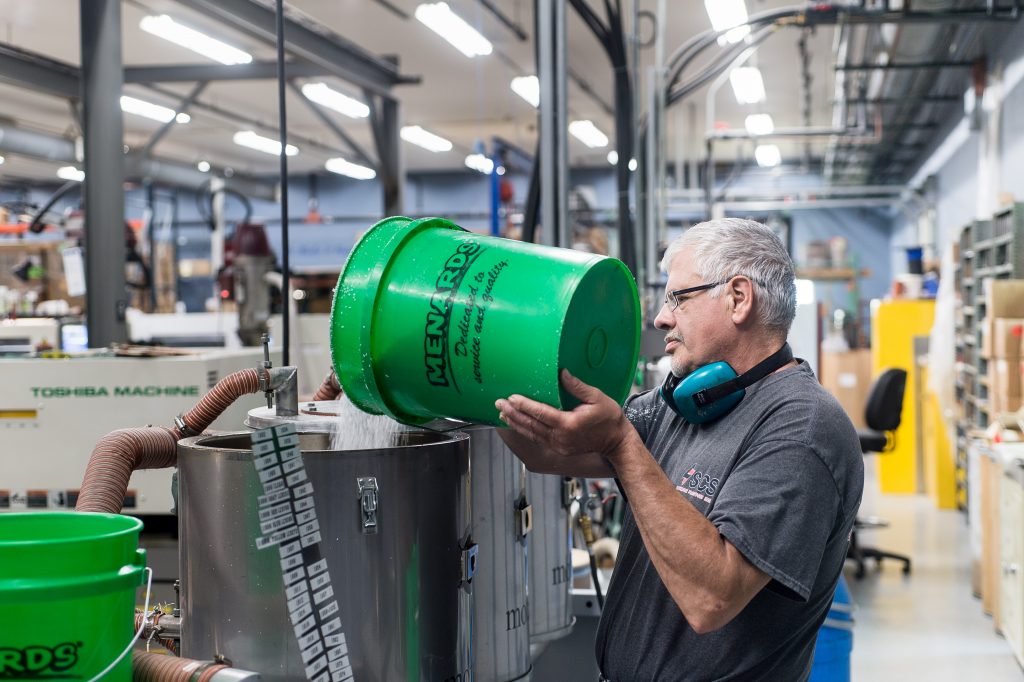 The limited supplies that are available right now are double to triple the normal price.  Previously listed issues also affected the global resin market making lead times for imported resin go from 6 weeks to 28 weeks.
What is SCS doing to respond to this issue?
As stated earlier there is no quick fix to the issues that have caused and are continuing to cause this situation. We are working with our suppliers to secure as much product as possible right now. Fortunately, some of our raw material suppliers have gotten in the early allocation que and are forecasting that they should have a reasonable amount of product by the end of the month, which could get us through the summer, in certain part families. Other suppliers have not been as fortunate and the outlook for supplies of other resins we rely on are less than favorable.
Our procurement department is diligently working on finding alternative suppliers.  One of our customers has even offered their help by reaching out to their contacts if they can help.
We are currently compiling and evaluating the necessary data to determine exactly which parts and parts families will be impacted and when. Because the market and product supply is rapidly changing this is a challenging, time consuming process. This will also likely be an ongoing process that will evolve and rapidly change as we progress through this shortage.
We are doing our best to be transparent and timely with our communications and information to our customers. We will continue to provide situation updates via email, links to industry news on our website and on social media in order to help our customers stay informed. Direct customer contact regarding specific materials and parts will be done by the sales department and/or customer service as is appropriate.
What does this resin shortage mean for customers of SCS Elevator Products?
Extended lead times, temporary product unavailability and price increases are likely inevitable. The degree of which we just do not know right now.
We asking our customers to look at approving alternative material as a contingency plan.  This flexibility will allow us to adjust much quicker, should one material be more adversely affected, and improve the odds of uninterrupted product fulfillment.
Key employees in your organization should be signed up for our email blasts, follow us on social media, and check our website routinely for updates.   Send your contact information to Michelle@scselevatorproducts.com to be added to our email list.  Follow us on Facebook @scselevatorproducts, on Twitter @scselevator, or connect with us on LinkedIn by searching SCS Elevator Products.