SCS is Taking Part in the Learn and Earn Program—Meet Our Students!
Wild Fig Support
This spring, SCS is excited to be taking part in the Learn and Earn program through Red Wing Ignite. Read on to learn more about this program and the students we will be working with.
What Is the Learn and Earn Program?
Red Wing Ignite works with students both inside and outside the classroom, with the goal of sparking their interest in STEM (Science, Technology, Engineering, and Math) careers. They began the Learn and Earn Program as a way to encourage students to explore education and careers in manufacturing and agribusiness through on-site learning experiences. This offers students the opportunity to see what it's like to work in their chosen industry and to learn more about the different careers available to them in that field.
Through this program, students are paired with local businesses where they work a handful of hours per week. They earn a wage, college credit, and OSHA 10 and Soft Skills credentials, as well as exposure to potential career pathways within advanced manufacturing.
For the student, it's a great way to dip their toe in the water to see if the industry could be a good fit for their future career. For the business, it's an amazing opportunity to make connections with potential future employees.
Meet Our Students!
We have two Learn and Earn students working with us at SCS this spring. Both of our students are juniors at Red Wing High School, and will be with us from 7:30-9:30am Monday, Wednesday, and Friday, April 5th through May 28th. We asked both of them a few questions about the program and why they chose to work with us. Here's what they said:
Meet Sylvia Marty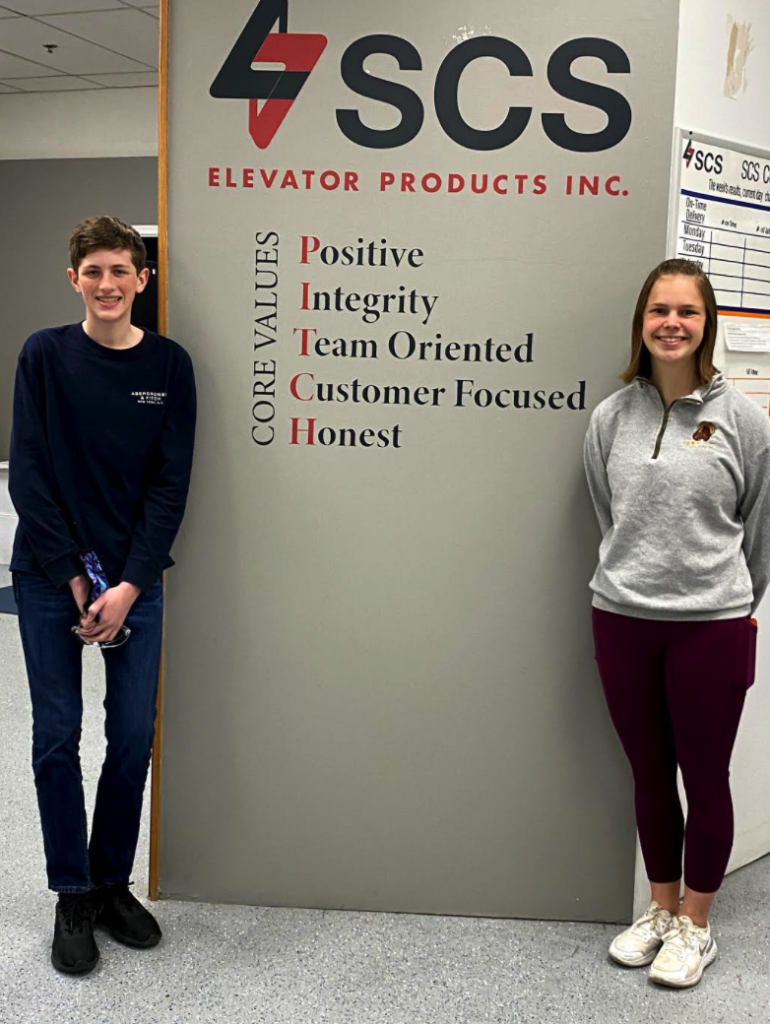 SCS: Sylvia, what made you want to join the Learn and Earn Program?
SM: My plans for after graduation are still up in the air, but I am looking towards Mechanical Engineering or CNC Machining. I joined the Learn and Earn Program in order to learn more about the manufacturing process and which parts of it are interesting to me.
SCS: What are you most excited about learning?
SM: I was most excited to see and learn about what type of work environment the 'real' world provides, and I already got to see the positive work environment SCS Elevator has. I am also excited to see the full process SCS goes through to make a part for a customer.
SCS: What made you excited to work with SCS Elevator Products?
SM: What made me excited to work at SCS Elevator was the focus they put into one type of product.
We are honored to be a part of the Learn and Earn Program, and we're thrilled to have Sylvia and Mason with us for the next several weeks! At SCS, we love connecting with our community in this way, and it is so encouraging to us to see a new generation eager to learn more about our industry. If you know a student or a business who could benefit from this program, we highly recommend contacting Red Wing Ignite for future opportunities.
SCS Elevator is the leading manufacturer of elevator cab braille, jamb braille, and elevator signage in North America. Whether you need specialized order fulfillment or custom products, SCS is here to help—contact us today!